I have 'run' out of time! I feel like I could have used another 5 weeks, which is why most people take 16 weeks to train for an ultra and not 10 like me. It seemed doable in January but that was very likely because I was coming off 6 weeks rest from my surgery and super-duper antsy. Just anxious to get moving and get back in the game.
My plan for Chuckanut has played out almost to a tee though. I recognized I only had 10 weeks total, 8 weeks to build and 2 for taper. I focused on cross-training with spin classes I was teaching and longer rides on my wind-trainer at home and/or spoovie nights. I also doubled up the odd day with a 1.5hr trail run in the morning and 2hr spin at night. I really only ran 2x's per week with the odd 3day running week on my builds leading into rest week. Mind you, I didn't cut back my long runs as I didn't have time. I basically started at 2hrs and progressed into 3 runs over 4hrs. My longest run was only 36km and 4.5hrs... but I did manage to exceed the elevation required for the race with 5500 feet in that run.
Anyhow, I feel like I did a good enough job and that I can go into Chuckanut able to finish if I pace myself and take speedy expectations out of it. Besides, this is the first preparation race I have for the Alps. If I can't perserver this race then I might as well toss in the towel. So I have no choice! It's for the greater cause! Must.................. finish..................... Chuckanut...............
It's funny though because it has been 2 years since I have ran an ultra. Yup! I have been focusing on mountain biking and coaching/running with the PACE group but nothing exceeding 21k. So I feel a tad out of practice. Hoping it will all come back to me and fall into place, of course. What could possibly go wrong?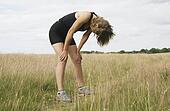 (picture this gal being me... hands on knees, about to puke...)